Our School
Established in 1978, we have been part of the Safety Bay community for over forty years and now cater for over 1300 students ranging from Year 7 through to Year 12. We have a proud history of producing successful graduates who contribute to the community on a local, national, and global scale.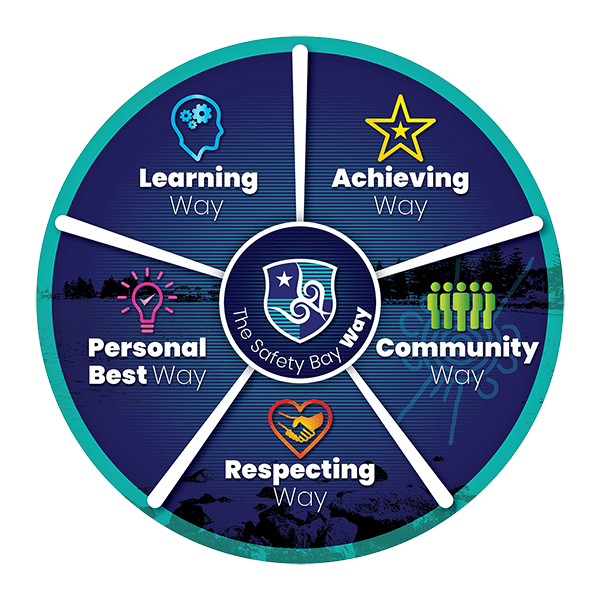 The Safety Bay Way
The Safety Bay Way is our whole school positive behaviour framework. It consists of five 'Ways', with students accumulating points for demonstrating the attitudes, behaviours and virtues associated with each. Our Good Standing Policy sits under the Safety Bay Way framework and ensures we have the very highest expectations of, and for, our students.
The Safety Bay Way is promoted across the school and forms a part of every lesson and activity. Students are encouraged to earn Reward Points. These reward points are then combined with attendance rates to provide an overall ranking and determine each student's Good Standing.
Students earn 2 points for each reward entry, but also lose 2 points for each demerit recorded. Students are rewarded for their Good Standing in Weeks 3, 6 and 10 at group meetings and assemblies.
Each term, in Weeks 3, 6 and 8, Student Services Coordinators publish a Good Standing list which is displayed on the notice boards around the school.
Download the Safety Bay Way and Good  Standing Handbook [3.41MB]
Ngany koodadjiny Noongar birdiya maaman, yoka, koolangka koora yeyi djoowak. Nidja Noongar boodja-k ngany nyin.
I acknowledge and pay respect to the Noongar Elders, men, women and children, past, present and future. This is Noongar country I sit upon.
Safety Bay Senior High School is proud of our First Nation people and their role in educating each and every one of us. This is an area we all strive to keep learning about, and we encourage all to share their knowledge and be part of our development, educationally and culturally.